Dream Trip to Macau

In recent years, Macau has been one of the top tourist attractions that I frequently see on the media such as travel blogs,dramas,variety shows and others.The moment when I knew Macau is a place nearby to China and Hong Kong,I was quite sad because I had been so near to this intriguing place twice,yet doesn't have a chance to step into it and have a deep exploration.

Macau is a really attractive place that caught my eyes since years ago.This explained why I immediately wrote this post after seeing this great opportunity given by Macau Government Tourist Office (MGTO) and Nuffnang Malaysia. So,what's so fascinating about Macau?

Okay,firstly I must vote it to *deng deng deng deng*
#1 THE WORLD HIGHEST BUNGY JUMP
People say YouOnlyLiveOnce,but I think I have live more than once by trying many extreme activites such as flying fox,zorbing ball,extreme water sports and others.However,the bungy jump I always wanted to try is still sticking in my bucket list.

Surely,if I wanna play for the best bungy jump,it must be the world highest bungy jump at Macau Tower.The World's Highest Bungy Jump at Macau Tower will take its guests on a free fall at a speed of up to 200km/h for the ultimate extreme journey! Plunging from a platform 233m high, challengers will experience a 4-5 second freefall before stretching the 50 meter bungy cord nearly four times its unloaded length and rebounding at approximately 30 meters above the ground.

I really wish to stand on top of the 233m high platform of Macau Tower,plunging into the beautiful scenery,yelling out all the pressure,the low spirits in my innermost being for these years.I wanted to shout out loud in the air until my jaw drop! (sorry it's kind of exaggerated :P)


I have even dreamt of the Macau bungy jump waving hand to me,asking me to conquer it,yes I really do.





Secondly,I have been attracted by
#2 The UNESCO Heritage Site,especially RUINS OF ST PAUL'S

Let's see what the Mighthy Wikepedia says:

"The Historic Centre of Macao, also known as the Historic Centre of Macau (Chinese: 澳門歷史城區; Portuguese: O Centro Histórico de Macau), is a collection of over twenty locations that witness the unique assimilation and co-existence of Chinese and Portuguese cultures in Macau, a former Portuguese colony. It represents the architectural legacies of the city's cultural heritage, including monuments such as urban squares, streetscapes, churches and temples.
In 2005 the Historic Centre of Macau was inscribed on the UNESCO World Heritage List, making it the 31st designated World Heritage site in China. It was described by UNESCO as: "with its historic street, residential, religious and public Portuguese and Chinese buildings, the historic centre of Macao provides a unique testimony to the meeting of aesthetic, cultural, architectural and technological influences from East and West," and "...it bears witness to one of the earliest and longest-lasting encounters between China and the West, based on the vibrancy of international trade.
The UNESCO Heritage Sites include: Barra Square, Lilau Square, St. Augustine's Square, Senado Square, Cathedral Square, St. Dominique's Square, Company of Jesus Square and Camoes Square, A-Ma Temple, Moorish Barracks, Mandarin's House, St. Lawrence's Church, St. Joseph's Seminary and Church, Dom Pedro V Theatre, Sir Robert Ho Tung Library. St. Augustine's Church, "Leal Senado" Building, Sam Kai Vui Kun Temple, Holy House of Mercy, Cathedral, Lou Kau Mansion. St. Dominic's Church, Ruins of St. Paul's, Na Tcha Temple, Section of the Old City Walls, Mount Fotress, St. Anthony's Church, Casa Garden, the Protestant Cemetery and Guia Fortress.
"
Wow!That's just too much to see and too much to learn! From all the great historical buildings,my favourite must be the Ruin of St Paul.I know this is super mainstream,but hey!It's the Macau first tourist attraction.It's just like the Eiffel Tower of France,you wouldn't dare to say you've been to Macau before if you have never been to this famous landmark.
To have a better and closer look on this magnificent building,I purposely went to Google map's Street view,doing weird thing like scrolling 360 degree to check out what's around there.How I wish I have a chance there taking photos with Ruins of St Paul's in different poses and different angles.Taking a close photo of it,a far photo of it,a front view photo of it,a back view photo of it.....ok enough.(You know,sometimes it's boring living under Google and Wikipedia,sobs sobs)
Last but not least,
#3 The Venetian Macau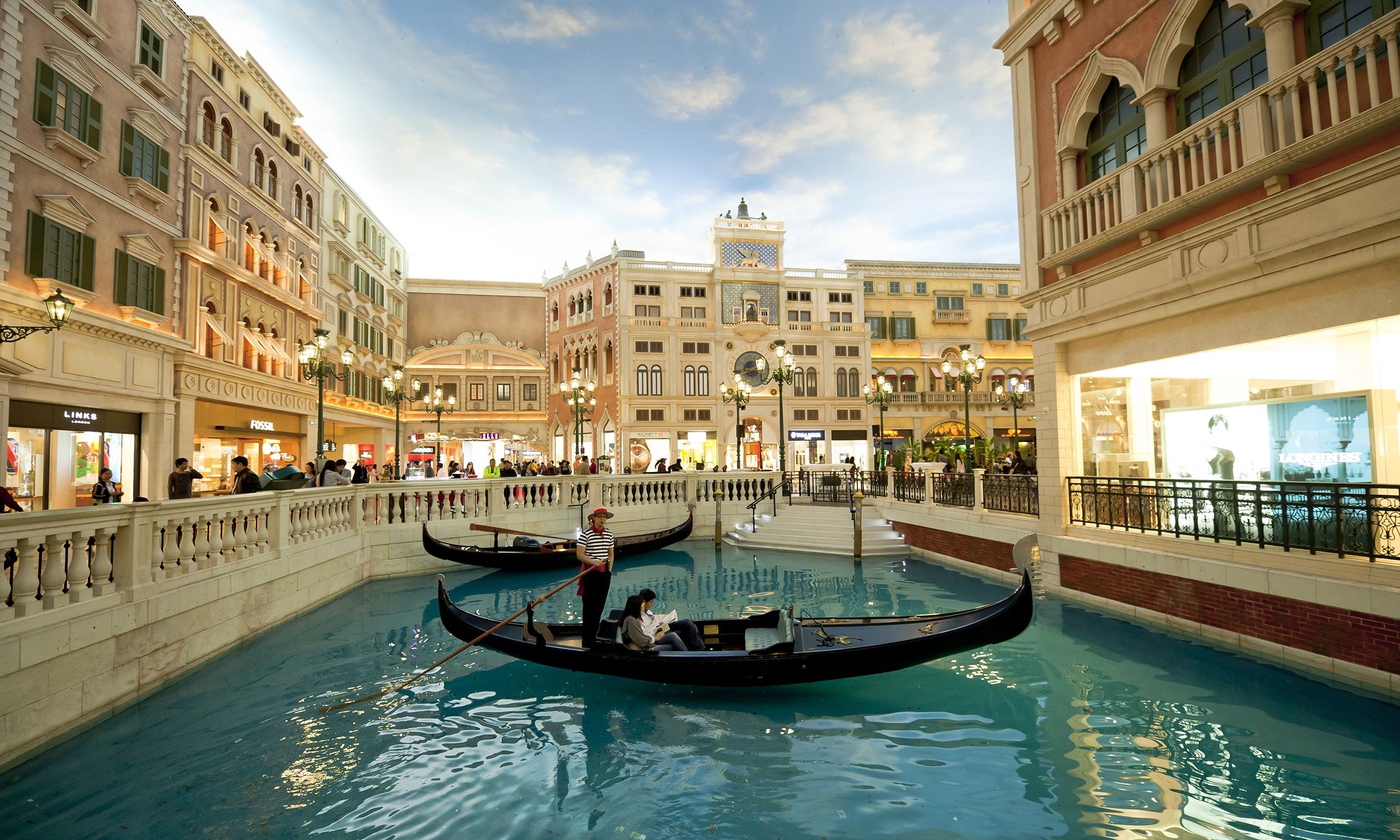 Paying a visit to the Venetian is a MUST!
Even if you are not interested in gambling or are underage(like me) to experience the epicness of Macau's casino,you still can have a tour on the gondola and embrace the mixture of onrushing modernity and lingering Venetian exoticism.I think it's okay not having a boyfriend to get on a gondola ride with me,the romantic atmosphere there will be enough for me to marry myself.I would sing together with the gondolier( ♩ ♪ Row Row Row your boat♫ ♬ *NOTTHISSONG!*),in the same time enjoying mesmerizing lights around me.
It's even better during the Venetian Carnevale held from April to May.Aerial dance, game booths, fire-juggling and many more amazing shows……No one can escape being awed by the liveliness of the night in Macau.
only found blurred photos like this,hmm it's okay to leave some imaginary for myself.
These are
Three Most Amazing Things that makes me want to visit Macau
.I used quite some time to choose them because there are much more amazing things in Macau such as the foods(it's a option four for a full time foodie like me,just look at the Portuguese egg tarts!the Pork Chop Buns! *saliva dribbling* ),the old streets,the museums,the culture......too much to note in details.
If I am a grown up with stable income,I will book a flight now to Macau with no hesitation.It's saddening to realized I am a poor girl just graduated from secondary school,with bunch of time researching for universities and future career.My wanderlust urge me to have more travelling,yet I have asked too much from my parents these days such as graduation trip(see next post) and prom night,I couldn't bear myself asking more money.TT Therefore,I sincerely wish that I will be chosen by
Macau Government Tourist Office (MGTO)
and
Nuffnang Malaysia
.It will be awesome experiencing a different culture during my one year short break ,using my words,photos and drawings to illustrate all the amazing stuffs about this small but mighty country.I would like to share every single story to all my friends and blog readers (glad to say that I have a wide range of blog readers,you can check it out on the right side :P) ,getting them in love with this interesting country,and
that's why Macau Government Tourist Office (MGTO) and Nuffnang Malaysia should send me for this superb oppurtunity!;)
ps: Also,need to say that this is my first English blog post.I consider adding own Chinese translation under every paragraph but then afraid it's against the rules.Here to announce that I may be blogging with both Chinese and English start from now on.*stepped into the international world*
If you want to have a chance going to Macau,you could join the
contest
too.
Share the joy,share the love,share the knowledge,my true intention of blogging :)
After all,I am back!